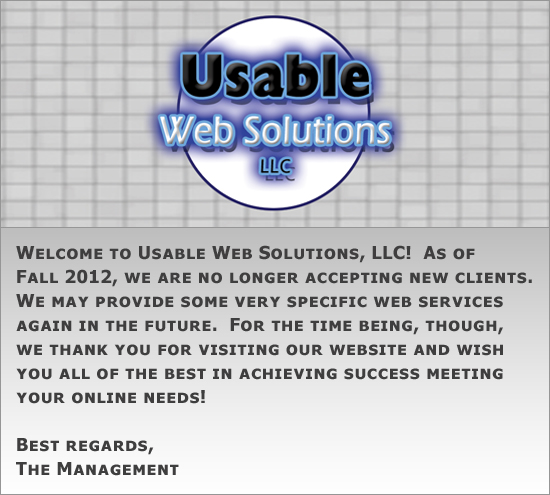 Usable Web Solutions, LLC
Online Privacy Policy
Last Updated: 3/26/06
Introduction
Usable Web Solutions, LLC (hereafter "UWS") wants to help you make the most of your visit to our web site, and that includes helping to protect your personal privacy. All of the features on our web site are offered without collecting any personal information from you. You can surf the UWS web site and view our content anonymously. For those services that do require UWS to collect personal information, you can rest assured that your personal information will not be shared with any third party vendors or other annoying marketers.
By surfing this web site, you are agreeing to the terms of this Privacy Policy, as posted in this area of the site. If you do not agree with any terms or practices described in this Privacy Policy, please do not use our web sites.
As used in this Privacy Policy, "personal information" means the personally identifiable information that is collected on this site which might include but is not limited to: your name, date of birth and e-mail address. When personal information is collected by UWS, you will know because you will have filled out a form on this web site. Any and all forms on this website are at your own leisure to fill out and submit.
Children
UWS is committed to fully complying with the Children's Online Privacy Protection Act ("COPPA"). We encourage parents to spend time online with their children and monitor what their children view on the internet.
- UWS does not knowingly collect, use or retain any personal information from visitors to this web site who are age 12 or younger.
- Since we do not knowingly collect any personal information from visitors to UWS who are age 12 or younger, we do not disclose or transfer any such information to third parties.
- We do not request any visitor to provide any information about their family members, friends or other persons.
Collection of Personal Information
UWS collects personal information from visitors to our web site in the following ways:
- Submissions of our Contact Us form
- Other various submission forms
The use of any of these services is entirely optional and voluntary; however, if you do not provide the personal information requested, you might not be able to receive a response to your query.
If you send us an e-mail, you should know that e-mail is not necessarily secure against interception.
Changes in This Privacy Policy
UWS reserves the right to change this privacy policy at any time. If we decide to change our privacy policy, we will post those changes here and we will change the "Last Updated" date at the top of this page. We encourage you to visit this area frequently to stay informed.
Contact Us / Complaints
If you wish to contact us or lodge a complaint about any conduct that you believe is not consistent with the terms of this Privacy Policy, please contact: privacyconcerns@usablewebsolutions.com